Best of Reaktor User Library November 2008

Effects

TS-808 Screamer v1.0
By Keith Adams





Emulation of a well known Green Guitar overdrive pedal
TS-808 the famous Overdrive pedal, Many revisions have came since, but the TS-808 circuit to some is the Holy Grail of Distortion. Well known for its bluesy Midrange tone. It is surrounded by Mojo magic myths that the original JRC4558 Op Amp used in the circuit gives its amazing sound. With heavy pre distortion high pass filtering and heavy post distortion low pass filters set around 720hz ,a simple diode clipping stage the TS-808 achieves smooth overdrive and its famous midrange voice.

***

wabbelecho 2 v1.0
By Dieter Zobel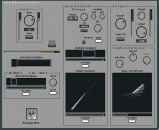 ***

Samplers

scapes v3.0
By Dieter Zobel

a remix of a remix,
based on SoundScapes by AuReality and
NoiScapes by Bernd Keil.

***

Scapes 3 morphmod.ens v1.0
By Kimmo Kivelä

Scapes v. 3 with snapshot morphing
I think it´s more usable with morphing.

***

Sequencers

GreyScale v2.0
By Adam Hanley





16 x 16 matrix sequenced synth.
Thanks to everyone for the feedback. Here is the new version of GreyScale featuring:

1 - Improved CPU performance.
2 - New visual filter module.
3 - Sample Rate reducer effect.
4 - New randomisation options.
5 - Clear cell button.
6 - Midi keyboard pitch input option.
7 - User Manual!

Inspired by nanovoice, this synth has 16 harmonic sine oscillators that can be manipulated using the matrix. The top bars control the panning and the bottom controls a bitcrush effect.

This works quite nicely if you make two snaps, then merge them.

***

Snapshots

Concept X 2 snaps v1.0
By Don Dailey

Snaps for Concept X 2

This is a deep and delicious synth (with a bit of a learning curve) that is capable of a wide variety of sounds. Typical of Steven V synths, I might add. I just got started !

***

GreyScale Snaps v1.0
By Don Dailey

+ snaps for the GreyScale Sequencer
Fun with squares!

***

GreyScale snaps for V1.5 v1.1
By Don Dailey

A bank of snaps for GreyScale version 1.5

***

resomusic-greyscale-snaps 1 v1.1
By bodo kuznik

Neverending Greyscale
Play one Hour with Greyscale...and now Some Snaps ...

***

resomusic-greyscale 2 v1.1
By bodo kuznik

GreyScale Part 2
More Snaps but more different about Part 1

***

Specials

intonaruMori quaTro v1.0
By rick scott





ntonaruMori IV: Aliasing Synth reMix

the fourth in my intonaruMori series. (luigi russolo, italian futurist author of The Art of Noises, used the term Intonarumori to refer to a set of noise-making instruments he built long ago.)

this one is so intense that i almost feel guilty putting it out there ... it is a reMix (randomation along with a few other choice tidbits) of herr pank's awe-ful (compliment) Aliasing Synth.

WARNING: THE ENSEMBLE IS PRONE TO SUDDEN BURSTS OF EXTREME VOLUME AND HORRIFIC NOISE. SO PLEASE PROTECT YOUR EARS AND SPEAKERS!

***

Synthesizers

Concept X_2 v1.0
By Stephan V.





Digital Synthesizer
This is the second edition of my hybrid-wavetable-fm-synth. I totally reworked the modulation routings to something massive-like. To adjust the basic value of the parameter you first have to click on the label of the knob. To adjust the modulation depth, first click on one of the blue, green or yellow selectors below the knob.

***

Icepad Remixed v1.2
By Nafabi Genire





remix of rachmiel's icepad
I made a few... changes.

***

Pipe Organ v1.0
By Petr Martínek

Church organ with sampled pipes

***

pWaf'm v1.1
By rick scott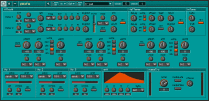 lofi goofball synth

pwm + am + fm with filtering and triple lfo modulation. the result: grotesque.

***

Son of Thing v1.8
By rick scott






a kindler gentler variation of The Thing (which i uploaded almost 7 years ago!), SoT uses am, pwm, and randomation to create lush evolving paaads suitable for scifi, horror, and other grotesqua.

usage
-----
1. pick template.
2. randoMize!
3. play.

***

t'wanGpaad v1.1
By rick scott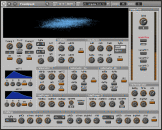 icy pad

good for abstraakt icy atmospherika.

usage
-----
1. pick template.
2. randoMize!
3. play.

***