Best of Reaktor User Library february 2009

Effects

fratzen delay v1.0
By Marko Wunderlich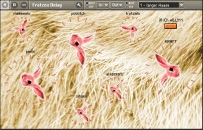 weird feedback delay
A freaky little feedback delay i use to fuck stuff up.

just follow the rabbit.

in-action video:
http://psychotronic.electronicattack.de/fdelay.mov

***

Fratzen Reverb v1.0
By Hunon111 Xelon222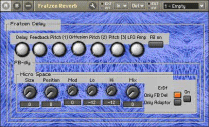 Modify sounds with both Fratzen Delay and Micro Space
This is a modified version of Fratzen Delay original from Marko Wunderlich.

Micro space is added for create room sounds.

10 Snapshots is include.

***

GFX V8 v2.0
By Jonathan Style





FX for Guitar
I started this back in 2008, some might remember, I have been doing a good deal of work tinkering with it.
I only have a few stomps and amps in this version (basically what you seen in the screen shot).
Well I hope it works out, it's no replacement for a good amp simulation but it doesn't hurt to try.

The pedals stomp pedals could be run to an actual amp, however,
the amp sim are intended to be used with the speaker sim provided.
I have run the amp simulation out to Guitar Rig is didn't sound horrible but why use these
if you have Guitar Rig which sounds superior.

*The speak simulation is based on the one in TT-Amp.

*The tube screamer pedal is my interpretation of bogac Topaktas' Tube Screamer's Secrets.

Webpage: http://www.bteaudio.com/articles/TSS/TSS.html

V8.01 I updated and modified the speak simulation.
I change some more things around.
Changing the values on any knob or switch should not be smooth.
I added and adjusted one of my other uploads for this ensemble.
Adjusted & add some snaps to the speak simulation.

***

Malfunction v2.0
By Keith Adams





Auto Glitch Effect
Auto Glitch Effect with clock sync and Dual Effect Mixer.
Malfunction is the Effect and the NI Sample Transformer L3 is included as a audio source for review of the effect.

***

***PROBE v3.1
By Jonathan Style





AUDIO DISTORTED TO NOISE.
This little fx's unit grew out of my messing around with effect for guitar processing in Reaktor.
It's not a typical type of EQ…it's not really an eq at all, it reduces everything to noisy & harsh trash.

Changes in V2 I added a pre-input gain booster with a tone control,
the booster will have no effect if the unit is not on.
This really distorts everything in a way I think is pleasant.
I removed things that are not meant to be in the ensemble and I added info texts and a short description of the signal flow.

Update V3: I fixed some errors and add a funky animated tube display.

***

spektreDelay - improved v3.0
By rick scott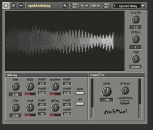 spectral analysis/re-synthesis + delay

spektre (spectral analysis/re-synthesis) + Delay (mod of style's fm4 delay).

analyzes 128 bands of audio and resynthesizes it in 128 sine waves, each with independent panning and slide.

good for spooky textures and bell-like washes.

***

Sequencers

homo ambiens v1.0
By Bernd Keil





Newscool mod
Original sounds and instrument by laZyfiSh.

Added some ubiquits for motions inside the sequences to the Newscool Drummachine.

***

pataSpace v1.0
By Bernd Keil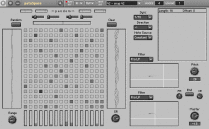 Pataphysical Instrument - Pad synth
PanScale + Echospace = pataSpace

based on GreyScale by Adam Hanley.
Echospace by Jonathan Style.
Pandom by Dieter Zobel.
Motion by Native Instruments.

***

Snapshots

4FM candy snaps v1.0
By Kimmo Kivelä

100 candy snapshots to 4FM synth
Here´s 100 candy sound snapshots for 4FM.
Pianos, strings. arp sounds, brass and DX7-like "starry night" sounds. Some synth solo sounds too

***

SUK 4FM Snaps v5.0
By Don Dailey





50 snaps for 4FM
Jonathan made this wonderful synth and I just had to dive in and make some snaps.
Wow. I never have much luck programming FM synths, but this one was just very easy to get good results.
Settings are sensitive so it's easy to tweak these and get a whole lot more.

***

[WaveZorus] Black Fingernails v2.0
By Bernd Keil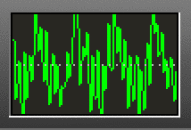 a second bank of 128 snapshots
Variations for WaveZorus version 2.1 by Eric Le Guenan.
(WaveZorus still in Jan user lib.)

***

Synthesizers

4FM v3.0
By Jonathan Style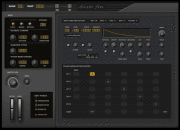 A simple FM instrument
I expanded on what I started in SUKFM. There are many changes to the instrument.
Unfortunately I had some funny things going on that I didn't catch in it so I had to mess around all night to figure it out.
I think I have it all down now…really I think I do!?!? I am sorry for all the messed up updates on this one.

I should mention a few oddities about the instrument that might make it easier to use. The numeric displays for the harmonic freq, fine tune, fixed ratio and amount are all knobs with a transparent layer over them. I did this so that you can have the set to default option. The numeric displays in the FM matrix are also knobs. The edit pages selector can be used by the mouse when the mouse area is selected; if it is deactivated it is a knob that you can assign to a midi controller. The Modulation envelope will only affect the pitch of the operators when you have enabled the 'pitch mod env' switch on the operator's parameters page. The FM matrix and its arrangement in the modulation matrix might be a bit confusing at first. The matrix is set up so that the operators self modulation is set off the left and everything else aligns with what is being routed to, however in the modulation matrix its list in order. For example to modulate the phase modulation of operator 2 by itself you would increase the left display listed under self to set the amount of modulation. If you want to modulate that amount using an LFO in the modulation matrix you will use PH2(S) = Phase operator 2 self modulation amount. Lastly, the pitchbend wheel display on the instrument responds to controller actions, however it can not be used as a graphic element.

I don't have the time right now to work on snapshots; I will try to get to them some other time. There are about 22 snaps that range from mild to silly noise.

I borrowed the concept of the routing matrix from FM8 it seems to work well with this synth as it does in many other FM synths so I am going to go with it.

Well good luck. I tried very hard to make everything clear as possible; I hope that the arrangement of details doesn't turn anyone off to it.

***Update 4.01 fixes the panning problem, position of the phase sync and porta enable buttons, I also added the event smoothers where needed.

***Update 4.03 reduced CPU.

***Update 4.04 damn switches fixed. Really sorry about the constant uploads I'm done.

***Update 4.06 made a few changes to make it smoother.

***

little sicko v1.1
By Marko Wunderlich





aggressive FM synth
This is a little aggresive FM Synthesizer with 3 osc parts.

1x sync
2x FM
2x Main

Makes a lot of aggressive sounds, which i like. ;P

Theres a FM modulated stereo feedback delay, a ring modulator and a little eq in it.

in-action video:
http://psychotronic.electronicattack.de/little_sicko/little_sicko.mov

***

Motorized v2.3
By Synthlord D





Synth with recordable controls and sequencer
Synth with capability to record slider control changes in real time without midi.
The synth section is fairly standard stuff but with the added capabilities of recordable panel control sliders, generating nuanced, complex and expressive textures is possible.

Slider positions are sampled at 1mS intervals to prevent zippering.

Equivalent to a 30 channel control sequencer without having to deal with all that messy controller data and uses minimal system resources.
Simply moving the sliders while playing the sequencer will record changes. The recording time or duration is set by the Record Len knob in the Seq. CTRL section
in Bars and notes divisions.
Sliders can be continuous or gated by sequencer steps. Left clicking on the slider label switches between modes.

The Sequencer section has per step note duration capability and gate time is also programmable.
The sequencer automatically loops when note values add up to a complete bar length as determined by time signature.

See additional info comments for each panel control.

***

MotorWave v1.0
By Synthlord D





Wavetable synth with Sequencer
This is the Wavetable version of my Motorized Synth/Seq ensemble.

Same features as in "Motorized.ens" with the slider movements being recordable and the sequencer has step
note and gate duration control.

Most controls are commented with info about how to use them.

Wavetables are 8 bit with 256 waves in 16 banks.
Both Oscillators use the same tables.

***

NORD v1.0
By Stephan V.





Polyphonic virtual analog synth - the latest edition
Virtual analog polysynth similar to a Nord Lead but with a lot of additional features.
this is not only a GUI facelift, i also modified a lot of things in the structure.

3 oscillators (fm, sync, ring mod, noise generator, wavetable mode for osc 3)
2 multimode filters (filter one contains some slightly modified carbon filters with that awesome screaming resonance)
2 lfos
3 envelopes
6 slot modulation matrix
4 effects
full midi implementation
user manual included (i recommend to read it)
128 snaps

***

Spod Prodigy v1.2
By Dave Pape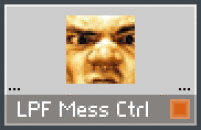 Monosynth with Hiss & Hum
My first experience playing with a synth was with a Moog Prodigy, but I've never owned one - a gap in my ego which left me with a compulsive gear-buying habit that destroyed my early adult life. So I thought I'd make a copy in Reaktor.

But it sounded very clean, so I added a load of circuit hiss and randomisation to various parameters (like filter cutoff & oscillator pitch), wobbling DC "voltages" to the oscillator output, and saturation after the filter. Look at panel B for control of the mess, panel A for the standard controls.

Now it sounds... less clean. Architecturally I think it's quite close to the Prodigy. In sound terms, I don't know how realistic the messiness is - whether synths really degrade like that - or whether it goes anywhere near capturing the Prodigy's character. But it's quite good fun to play, and I like the idea of spending more CPU on making it sound bad, than making it sound good.

***

TETHYS v1.2
By Eric Le Guenan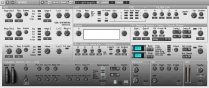 Subtractive synthesizer
Tethys is inspired of Titan and WaveZorus.
I like to use some lead, chord, or syntn with the step designer from cubase, or use any sequencer.

***

TuBiFex 2 v3.0
By Dieter Zobel





for friends of the cultivated dissonance,
from the Beselbiger series.

***