Best of Reaktor User Library december 2009

Effects

Optimus Rex v1.2
By Donald Phillips





Glitch Machine
Optimus Rex began as an optimized version of rex in fx.
I get 2-4 times faster speeds on my machine
depending on how many effects are activated.

Later I decided to get rid of the loop player and 3 of the effects.
I added 6 new effects and modified some others to work as a feedback looper.

Finally I added a sequencer so you can program out the effects
without wasting an extra midi track in Ableton.

I've only had Reaktor for 3 weeks so please excuse any glaring errors!
I'll be happy to fix them.

Be warned that the feedback loop can be a little crazy so be careful with the output knob!

***

rezCloud v2.5
By rick scott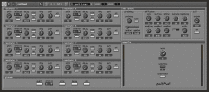 resonator cloud
generates sonic cloud of 1-8 (sync-delayed) resonators. good for creating eerie textures. works especially well with vocal passages.

usage
-----
1. set desired bpm.
2. pick snap template.
3. randoMize!

***

Samplers

Players v2.0
By Oliver Saherwala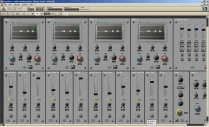 Sampleplayer
Ok, this is a collection of different players. I tried to work out different kinds. My original sample map was far to big for an upload to the user library. So i cut it down to a very small map. Every Ensemble is using the same map.

Every Update is a different player !!!
Try all!

Don't forget to press PLAY.

Watch the INFO Text in every ensemble for more information.

This was originally thought as an update to the Moduloid modules. I made a new design and some new modules. But somehow I got lost and I decided to end this here. So the modules can be easily extracted and you can build up your own collection and combine it with the older modules. There a lot of possebilities. But dont get lost !!!

Machines is a group of ensembles which are using the same Modules like the players, but are no players at all. I included some Synthoid clones, a slightly changed FM4 and some other small ensembles.


Thanks for all the contributions to the user library. I got many ideas from there.

Special thanks to Peter Dines for the automated faders, Jonathan Style for the coloured knobs.

***

Snapshots

Aeolotonium Snaps v1.0
By Don Dailey





Snaps for Aeolotonium
Adam Hanley's Aeolotonium is one of the coolest sounding and looking synths
to come to the UL this year IMHO. A joy to program.
It does not make the usual sounds! Here's a bank of 52 for you.

***

CHA-OSC Snaps v1.0
By Don Dailey





Pads
A Bank of 68 Pads for Stephan Schmitt's CHA-OSC v1.0

***

Highly Undesirable Cha-OSC snaps v1.0
By david brymer

Messy
Some snapshots for the highly unmusical.

***

Synthesizers

Aeolotonium v1.0
By Adam Hanley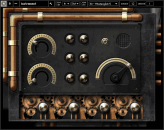 An Invention!
This is a hybrid FM/Subtractive Synthesizer.
I became obsessed with adding subtle "errors" to make it fit the Steampunk design.
A nice departure from my usual digital creations.

Included is a signal chain guide and a control guide.

Special thanks to Mr. Style for the empty panel instrument.

***

Black Lotus 1.0 v2.0
By Thomas Medes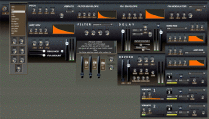 atmosphere/bass/pad/pluck covers a few bases
***steal these knobs! :D

uses fm when an fm-ready osc is selected,
also uses 2 serial ring modulators operating at pitch intervals
to create string-like ensemble characteristics.

Filter connects to lfo 1 2 and 3, and all three can be combined
to create bpm accurate filter grooves both retrigger and free running.

the ring modulators have 5 waveforms to choose from each,
and one of the modulators is mislabeled AMP MOD
lol
I might include a proper amp modulation area where the amp modulation
goes right into the oscillator's ... ummm... A port!
but for now we gots RM!

the reverb is my first reverb ever, simple but wiiiide
the lower knobs for the reverb are in the dark because i dont really mess with them


the knobs and sliders and backgrounds are yours to use in your synths,
commercial or not, either way, just mention me.

***

BLUE LOTUS v1.1
By Thomas Medes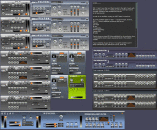 *mother of the black lotus*
Atmospheric pad and bass synth with way more FM
***Now has documentation panel!
Osc filter LFO combiners now simplified and correctly named.
Ring modulators labeled and
consolidated.

***low dampening for reverb added

This is the precursor to the black lotus, with way more FM, warmth and cpu eating (hahaha)

there are 4 slim oscs that are used for for string ensemble-type arrangements and 3 stubbier oscs used for bass creation and plucks.

the filter, like with black lotus, has a 3 lfo combiner for filter rhythms,

this also utilizes the serial RM and AM mod units for the strings/pads.

a final res-limit filter, delay and my first reverb sit on top of it all

***

CHA-OSC v1.0
By Stephan Schmitt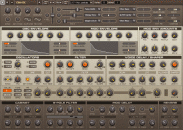 A mutated organic sound engine
This is my personal Holiday gift 2009 for the Reaktor user community.

CHA-OSC is one of the branches of an evolutionary process that was also the foundation
for the popular REAKTOR SPARK, and that will be the basis of more to come.

In contrast to SPARK, this is not an official full-featured release
but more a private project. It means, you cannot expect the same level
of sound design and preset content.
Also unlike SPARK, CHA-OSC is a pure REAKTOR ensemble
without specific KORE 2 / KORE PLAYER features.

The Ensemble comes with a small selection of Snapshots.
They can be used as starting points for your own exploration of the sound space of CHA-OSC.

***

Polymojo v1.1
By ZooTooK .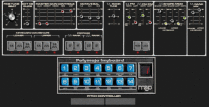 This is an imitation of the vintage Polymoog!
After the success of the Minimoog the much anticipated polyphonic moog
was a not living up to the expectations and by many seen as the beginning of the end of the moog company.
Although innovative in some aspects there are many compromises making the polymoog
difficult to use and also prone to break.
Heating problem due to the massive amount of components making it fully polyphonic with 76 voice
puts alot of strain on the hardware. So when the competitors like SCI Prophets, Oberheim and Yamaha CS series was released
the polymoogs were quicky outdated. Never-the-less the polymoog produced some classic sounds on some classic synth albums like
Gary Numans Pleasure Principle and Telekon, Kraftwerk Trans Europa Express, Man Machine, Computer World and many more by ELO,
Yes, Saga, Stevie Wonder etc.

Although a commercial failure in the late 1970s I think the Polymoog has alot character and charm making it worthwhile to explore as a
virtual synthesizer. This imitation is mainly a Polymoog Synthesizer BUT the blue buttons are from the cut down/preset version
Polymoog Keyboard. Also I have not been able to make the MODE-filters. Hence there is no fader for that in the Master/mix section.

The polymoog is a bit difficult to understand as there are 3 different filter sections and also a signal direct from the oscillator without filter.
One of the culpits of the polymoog was the lack of polyphonic dynamic filters. The MODE filter is polyphonic but not possible to control
by an envelope. There's a 4 pole LP filter but it's monophonic. And there bank of 3 resonant filters but they are also monophonic.
Also the keyboard is split in two different ways to create more sounds variation over the range of the keyboard but it's also makes it
a bit difficult to program. Each voice has 2 oscillator BUT they only have one waveform each - saw and pulse respectively. Not very
flexible and quite limiting.

One quite unique feature of it's time however contributed to the lush sound called Vox Humana which I'd say is Gary Numan's signature sound.
The 2 oscillators per voice have each a separate LFO for frequency modulation. Also the Pulse Width has it's own LFO.

I havn't made many snapshots and I've moved on to othe project and just can't find the energy to make more. Please send your's to me or
upload them and I'll inlude them in later version. The effect pedals are made by Hugo Portillo included in his amazing Eminent imitation,
hence the Jarre snaps.

***