Best of Reaktor User Library October 2.010

Effects

Tape Machine v2.0
By s millward





Multi effects processor
Tape Machine is a collection of stereo processors for compressor, saturation, aural excitement and limiter effects. It can help simulate tape-like saturation and other tape-based characteristics. It may also help add so-called analogue warmth to the signal.

The processors have been arranged in an order which promotes fruitful interaction between the different effects. Each processor in the chain can be enabled / disabled using the respective on / off buttons, and a solo function allows you to listen to each module in isolation.

Clip indicators and a numerical display of the final output level help you keep an eye on levels throughout the signal path.

Tape Machine makes no claims to be an accurate virtual model of an analogue tape recorder or similar, but hopefully it can help approximate some of the pleasant artifacts of that technology within the confines of the digital domain.

CREDITS
Some of the ideas for Tape Machine come from other Reaktor user ensembles. I managed to contact Chet Singer whose Aural Exciter is used here unchanged. Thanks Chet! Grateful thanks also go to Ben Suthers and Stefan Knauthe whose Limiter and Wow and Flutter designs formed the basis for those used in Tape Machine.

***

Sequencers

Silverbird v1.2
By Andre Goc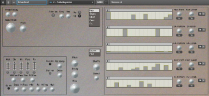 Drums
The Idea was to build a Raktor ensemble just to fire my self-made drumsamples !

Silverbird is like a rudimental groovebox...

***

tripbox three - LIMELIFE v1.1
By Michael Dörfler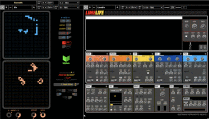 life sequencer feeds limelite
LIMELIFE: i connected newschools life-sequencer to the soundmodules of the limelite drummachine.
added some randomizers & adapted the ui.
pretty simple, but still fun...
click on the big display in limelite for randomization...

***

Snapshots

Dave KLUSTER bank v1.1
By David Dilliway

SFX atmos etc
A small bank of sfx, atmos sounds for K.Luster by Dieter Zobel

***

Dawlish v1.0
By Bernd Keil

for Metaphysical Function 1.4 version A
journey thru a fantastic world of non-sience by 100 steps

***

MF Eternity snaps v1.1
By Jim Hurley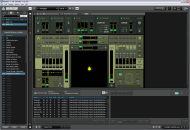 16 snapshots for MF Eternity
A small set of snapshots requiring the MF Eternity sample map from Simon Stockhausen.

Tested on version 1.1 and 1.2 of the Metaphysical Function with stereo sample playback.

Eternity sample map is at http://www.patchpool.de/Sounds/reaktorshop.html

Forum discussion is at https://www.native-instruments.com/forum/showthread.php?t=119850

***

Oktbr v1.7
By Anton Somov





bank for SineBeats2

***

Synthesizers

EPSILON ll v1.1
By Eric Le Guenan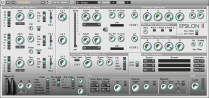 sub analogic syntesizer
Epsilon v1.1
Envelope pitch added
VCO:
Osc 4 Waves: x3. FM,Sync,Filter select.
VCF:
Panoramic Serial Filter x2.
ENVELOPES x3: Generator,Filter,Pitch
Filter Envelope Osc.
MODULATION:
Lfo 5 Waves:x2
Matrix modulation from lfo's to pitchs & filters.
SYNTHESIZER CONTROL:
+ Arpegiator
FX:
Delay,Chorus,Reverb
VCA:
Level Indicators.
New Sound Bank :snape x50

***

Metaphysical Function stereo v1.1
By Simon Stockhausen

MF with stereo sample playback
Two years ago when doing my first Bank for MF I asked around if someone could rewire MF so that it would play back samples in stereo. Rick Scott was so kind to do this. As the Spin module always routes the left side to the right and vice versa I added two faders in the central graphics area. One for the Spin Module level and one for everything else. If you want to hear your samples in stereo turn the level of the Spin Module down/to zero. The more you turn it up the more your samples will sound in mono.

I have encountered issues with MF concerning the automation. When opening the ensemble for the first time in standalone or within a DAW the internal automation of MF can get stuck. Although the green automation buttons are active the yellow faders won't move. Flipping through a few patches in the Snapshot browser solves that issue. If you see a green automation button lit but no yellow fader moving, something is wrong. Once the Automation gets going, it works for all patches. A bit like an old Mercedes...

***

Metaphysical Function stereo v1.3 for Kore 2 v3.0
By Stephen Wey

Stereo Metaphysical Function for Kore 2
This is just the same Stereo Metaphysical Function that has been uploaded already by Simon Stockhausen and then Jim Hurley but the automation wasn't working in Kore 2 - this version has the most useful automation params enabled for Kore 2 and also comes with a Kore template for Kore 2 adding extra levels of control over the sound and several example patches based on MF Eternity by Simon but with 8 variations that can be morphed. The idea is to add an interactive and performance element to MF rather than it just being something to listen and chill out to. More KoreSounds to come but this is partly to test if it works. I have removed the MF Eternity snaps and sample map from this upload for obvious reasons so you will need to purchase them from Simon's site separately.

***

MF Auralis v1.0
By Jim Hurley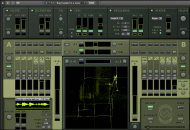 Auralis gets Metaphysical
The ensemble location and unpacking password may be found in the U/L download.

128 Samples made from Auralis
128 snapshots in Metaphysical Function Stereo

MF with extra resonances and reverbs setting.

Just in time for Halloween!

Enjoy,

Jim Hurley October 31, 2010

PS: This ensemble can play Simon Stockhausen's MF Eternity snapshots, but it isn't compatible with older Metaphysical Function ensembles.

***

Prophet 2010 v1.1
By Stephan V.





Polyphonic virtual analog synthesizer
Prophet 2010 is a modification of an old reaktor ensemble I found somewhere on my harddrive.
The basic structure was made by NI in 1998, I just put some additional features in it.
Comes with 64 snaps and a short manual.

***

Stereo Metaphysical Function v1.4
By Jim Hurley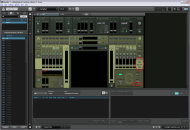 MF with stereo sample playback
Based on Metaphysical Function stereo v1.1
By Simon Stockhausen

Update by Jim Hurley
October 25, 2010


With Simon's approval, I am updating his recent ensemble.

These are the changes -

Cosmetic changes to GUI:
Mix and spin level moved
name of sample shown

Added transparent Limiter from James Walker-Hall

Added Randomization fixes from Lowkus (Mark Bonnington)

Made all delay lines use High Quality interpolation

Older Metaphysical Function snapshots will not work, but Simon's
MF Eternity snapshots work fine.

Version 1.3: The pitch control buttons now have the Morph/Randomize Isolation property set. When you randomize an original patch, these buttons will not be altered. Version 1.2 with the old behavior is still contained in this package if you like that action.


Eternity sample map is at http://www.patchpool.de/Sounds/reaktorshop.html

Forum discussion is at https://www.native-instruments.com/forum/showthread.php?t=119850

Version 1.4 update:

Found the gain problem - I set the master gain to 0dB but on the original MF Eternity ensemble the gain is about -6 dB.

***