Best of Reaktor User Library January 2.010

Effects

Beat Controlled Shaper v1.1
By Jan Gabler





Compressor replacement ;-)
A friend of mine asked me to program a timing-accurate tremolo
to get a pumping over-compression effect for techno and house music
without fiddling around with sidechain compressors.

So I built a function-controlled amplifier.
The function is a sinus shaped pulse, which is locked to system's song position.
You can control the repeat rate and shape of the modulator. That's it ;-)

It's meant to be used as an insert effect on e.g. layers.

***

Clu-Star Vox v1.1
By Adam Hanley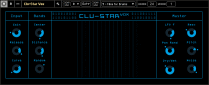 The vocoder of the future...today!
The final Clu-Star instrument. A self contained vocoder effect.

The pitch of the carrier oscillator can either be set by the pitch knob,
or played with MIDI depending on your needs.

The number of frequency bands can be changed by changing the number of voices for the instrument.

[***VERSION 1.1 UPDATE***]
Now includes stereo input version.
Though I recommend you still use the mono version with mono inputs as it uses less CPU.

****

g'Litch 5: rallalalaio! v1.3
By rick scott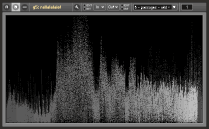 yag (yet another g'Litcher)
instead of using sequencers or randomation to automate parameters
(grainDelays, filters, feedback), rallalalaio!
uses an array of envelope followers, so the audio more or less glitches itself.

warning: the results can be a bit extreme, so protect your ears/speakers!

***

SupaGator V1 v1.0
By ian taylor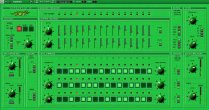 Gives bite to your gated sequences!
This is a little tool for those who love gating effects, with 3 selectable gate channels,
gate envelope and built in filter with voltage control
its capable to derive many different types of gated effect from this unit.
Hopefully no instructions are needed - most of the controls are self explanatory,
a bunch of snapshots are included to give you some ideas.
Feed it with an audio input of your favourite sound source
or replace the inputs with a Reaktor ensemble.

***

Samplers

ALoopix v1.0
By Baz .fr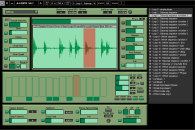 advanced loop player/remixer
* 48 loops per map
* kind of granular control
* internal sequencer
* sub-snapshots system

***

Sequencers

Epica Liner Futura v1.0
By Baz .fr





Bassline sequencer
E.L.F is a sequenced synthetiser designed to bassline sequences.

It uses an experimental synthesis engine based on a floating point modulo shaper
to produce at a 'low-cpu-cost' many harmonics from a a simple saw oscillator.

The .ens is patched with a lot of presets.
the .zip also includes a special version with 3 E.L.F called 'ELF caravan'.

***

Purple Drummer v1.1
By Baz .fr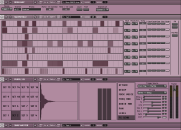 Drum sampler with FM & AM
- Purple Drummer is a drum sample player with an integrated sequencer

* 8 Drum kits can be fastly switched
* AM & FM between each of the 8 modules
* sequencer with flexible tick resolution & speed
* midi in interface to store custom triggers map
* this is a small version which contains only 2 percussions kits

***

Synthesyzers

Dark Scapes v1.0
By Bernd Keil





BroSis of NoiScapes 4
Atonal ambisonic pataphysical instrument - panel A & B are different.
Be careful to adjust the base/amount of resonance.
Instrument based on developments by AuReality from the last century.
Inserted some Zobel-Macros from the wonderful KraftStrom:
You may lazy to all or to parts.
For more see properties inside.

***

Just Ubertoner v2.1
By Kevin Gee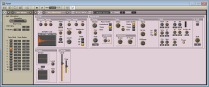 An improved polyphonic version of Overtoner with Just Intonation
This is a minor improvement over the Overtoner ensemble from Jam EL Mar.
It has a rich, resonant, and exotic sound similar to a sitar or surbahar.
I fixed the polyphony issue, and added just intonation to retune the incoming MIDI notes.
Select Just Intonation in the Intonation drop down to try alternative tunings.

***

Penumbra v1.2
By Thomas Medes





Penumbra -- Rude and concise FM bass and lead synth
This bass/lead monster is rather simple compared to my other synths,
and I mean waay simpler, but because of it's dual filtering methods,
its loud, overdriven and expressive.

there's separate envelopes for both modules of the saturated filter and the juno filter.

***

Proton 7 v2.0
By Stephan V.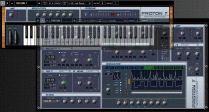 Polyphonic wavetable synthesizer
This is my first upload for 2010, but maybe not the last!
Polyphonic wavetable synthesizer with 2 main oscillators,
1 additional virtual analog oscillator, noise generator,
2 independent multimode filters with flexible routing,
different waveshaping modes, 4 envelope generators (ADSR),
4 LFOs with three different operating modes,
2 multi-effect units + equalizer.
The heart of this instrument is its flexible modulation routing
which is similar to NI's Massive.
All controls have hints, so I hope I don't have to write a manual...
Comes with 64 snaps.
There are still some bugs I'm not able to fix:
- After loading the ensemble the snapshot selectors on panel A don't work properly.
After a few hits on the buttons they work.
- The tempo of the ramp oscillators that drive the performer and stepper LFOs
is not 100% correct (Reaktor software bug????)
- Drawing performer curves: first click the right mouse button
and move the mouse up and down, then it works how it should.
1st update: implemented Marcin's suggestions in the patch and bank macros.
Now when opening the ensemble, the programnumber-display shows 08, but it works.

***

QuadroScapes v1.0
By Bernd Keil





sweet Sister of Dark Scapes
Atonal ambisonic pataphysical instrument - panel A & B are different.
Magical carpet ride, percussions, fx & bass.
Be careful to adjust the base/amount of resonance.
Instrument based on developments by AuReality from the last century.
Inserted some Zobel-Macros from the wonderful KraftStrom:
You may lazy to all or to parts.
For more see instrument properties inside.

***