Best of Reaktor User Library August 2008


Effects

AlkeDelay v1.0
By riccardo ferri





Sequenced Delay with Comb Filter ability
AlkeDelay by Riccardo Ferri

I've taken and extended Alkesynth Delay.
AlkeDelay is a sequenced Delay with randomizer,HP/LP and Peak EQ.
There are 2 Tables for controlling Send and Delay Value,
It can be used as comb oscillator aswell, in this case the upper Table is used for Notes pitch.
Tables are snapshot dependant with zoom and loop/reverse ability.
You can control both Values using an external midi, and also you can write inside tables from an external midi,cc1 and cc2, or note/gate when you use it as comb oscillator.

3 Files inside, demo full and lite.
Try demo to look for comb oscillator examples.
Full version has a limiter on feedback channel (like L1 Waves).

Added features:

-Stereo
-Smoothed Random
-Send Knob
-Noise
-Notes Delay (comb oscillator)
-Random for both tables with more options
-Playable/recordable from ext midi
-Autolimiter on Feedbak channel (Full Version Only)

***

AXA-1 v2.0
By Jonathan Style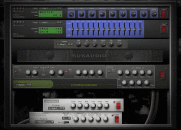 Guitar effects
More adventures into the unknown.

I was not happy with the sound that I was getting from the RGS amps that I have posted, I wanted an 80's metal sound. There frequency ranges of the tone stack and EQ based on ADA's MP-1 pre-amp and MQ-1 equalizer. You can find information on the hardware units at adadepot.com.

There are some special features that are not apparent from the panel. On the AXA-1 amp there are two distortion stages. If the control is set to zero the clipping is bypassed for that stage. Controls for the clipping amount and bias are on Panel B.

The Cabinet is much like the one in the RGS upload; however, I have reworked it, tweaked it, and add a few things. Please note that there are extensive parameters for shaping this on Panel B.
There are no effects uploaded with this version. It only includes what is pictured above.

For those that listen to the MP3 you will have to excuse my selection of tunes its all I could remember after 12 years. Apology aside, the MP3 is record in to wave in Reaktor stand-alone using an Ibanez RG-series guitar on the bridge pickup. The wave is converted to MP3 in Audacity. The MP3 "Sample2'uses a riff from NI's Guitar Rig its start out clean and then adds a touch of distortion. I have used delay and some reverb on this sample.

***

Auto-Filter v1.0
By Jonathan Style





what the title says...

Experimentals

Deep Space 1968 v1.0
By Dave Pape

Self-tuning feedback reverb
Experimental sound generator.

The ensemble listens to soundcard input (leave unplugged and the ensemble will listen to static, which I think is caused by cosmic rays).

Its input passes through a reverb, then through a band-pass filtered feedback loop. Then, the system listens to the output level of the reverb, and - in a slightly random way inspired by neurophysiology - adjusts the feedback level accordingly.

Filter cutoffs drift randomly, everything's randomised... and it sounds great, although it needs careful tuning.

***

IR Machine v1.0
By Alex Debicki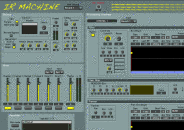 IR Machine is a tool to create, alter and enhance impulse responses.
Sorry, no convolution, just a tool to make IRs to be used with your favorite convolution reverb plugin.IR Machine can be used to create anything from 'real' spaces to out-of-this-world-reverberation-experiences, although the latter will more often be the result. It is a fun addition to any convolution reverb that accepts WAV or AIF files.

With Spike, the add on for IR Machine you can even use your favorite AU/VST reverb plugin with IR Machine.

The basics:
At the start of the chain are 6 sources (2 reverbs, 2 noise generators and 2 Impulse response playback modules). Another 2 external sources can be added. Up to four of these can be send to the 4 'Processing channels' and up to 2 can directly be send to the mixer through the "Direct" channels. All 4 processing channels and the two direct channels are then send to the mixer. The complete mix is send to the recorder, which records and exports the impulse response.

Each of the 4 Processing channels consists of a filter, an amplifier and a stereo panner each with their own envelope generator and LFO. The speed and depth of the LFOs can also be modulated by two dedicated envelope generators per LFO.

There is a manual in the zip file.
The mp3 file consists of two IRs created with IR machine and some simple piano notes and chords played through Logic's Space Designer loaded with the IRs.
Sorry for the lack of snapshots. The INIT snapshot is a good starting point for the creation of your own unique impulse responses, though.

***
RGS update v5.1
By Jonathan Style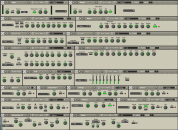 RGS Guitar effects suite update
Version 5 is an update for the guitar project.

What has changed in the update?

1. I have completely removed all graphics from the instruments. It is not as 'sexy' but it is more effective.

2 I have reworked all the amps once again.

3. I have also included the AXA and auto-filter uploads.

4. Misc modifications I can't recall.


I have only connected the input,Cabinet, and output. You will have to combine things and experiment to find combinations that works. I have included in all instruments a snapshot module for easy access to patches from the instrument panel. Please note that many of the items have more parameter for greater editing on Panel B.

I hope that you will feel that this approaches a more authentic sound then the earlier versions despite the lack of a convolution module, developing one on my own is far to complex and advanced for me. Enjoy this update.

***

Loop and Beat Machines

JBM BeatBucket - Yamaha PSR v1.1
By Johan Brodd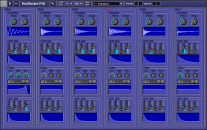 rum sampler: Yamaha PSR keyboard
BeatBucket is my concept of a simple drum player containing 6 samples playing sounds from homekeyboards. All these homekeyboards had often some decent drums onboard. This beatbucket plays the drums from the original Yamaha PSR keyboard.

***

JBM BeatBucket - Wersi WM 24 v1.0
By Johan Brodd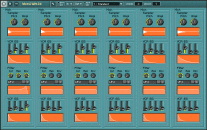 Drum sampler: Wersi WM 24
BeatBucket is my concept of a simple drum player containing 6 samples playing sounds from homekeyboards. All these homekeyboards had often some decent drums onboard. This beatbucket plays the drums from the original Wersi WM 24.

***

JBM BeatBucket - Wurlitzer Swinging Rhythm v1.0
By Johan Brodd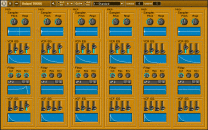 Drum sampler: Swinging Rhythm
BeatBucket is my concept of a simple drum player containing 6 samples playing sounds from homekeyboards. All these homekeyboards had often some decent drums onboard. This beatbucket plays the drums from the original Wurlitzer Swinging Rhytm.

***

Sequencers

Boombox v1.1
By joshua kern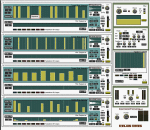 he gave me some roux so i started to cook
Mr. Dines was nice enough to give us some roux so I thought I should cook something. This is what you get. A pretty standard sample based drum machine with quite a few sequencing options. This contains work by Peter Dines, Rachmiel, Clist, and RC3, so thank you to all of them.

Features

-4 sampler slots with modulation, filter and saturation.
-post sampler processing units with modulation
-manual


Thanks to Sowari for all the help as usual. Look to see a "companion" machine with less CPU load soon.

UPDATE 1.2

-uses switches now to turn off certain elements, remember that fires off other events, but this feature is there so you can turn things off prior to getting started with making your beat.
-dropped some things to make it more streamlined/robust
-Lower CPU from 31% to 21%

***

Quax v1.0
By Joachim Schneider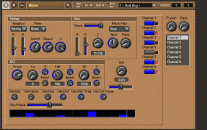 Freaky percussive soundmachine
my intention was a copy of the microtronic drumsynth from sonic charge.
this ensemble is indeed very similar, a little sequencer for weird, beasty sounds or just for designing new pecussive sounds or drums.
the ensemble consits of 6 equal sequenced channels, every channel consisting of a filtered noise section and an oscillator section with some moduliation options, a distortion and a master eq.
in the list on the right side of the ensemble you can select the view of every single channel.

***

TR-909x v1.2
By Stephan V.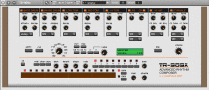 advanced drumcomputer
this is the further development of my old ab-99 drumcomputer. i built it already last year and decided to upload it now, just to let you know i'm still alive.

11 sample based drumsounds (BD, SD, LT, MT, HT, RS, CP,CH, OH, CC and RC), BD and SD with virtual analog sound generators or sampler modules, 2 lfos, effect sections for BD and SD with bit reduction, compressor and equalizer and last but not least a built-in sequencer unit.

there are no snaps or patterns in this ensemble so there's plenty of space for your own creativity ;-)

***

Snapshots

Crivit Snaps v1.0
By Don Dailey





52 snaps for Crivit
A bank of snaps for Johan Brodd's JBM Crivit. A very simple synth, but fun to program with lots of range.

***

Unknown Carbon Bank v1.0
By Stefan Knauthe

Unknown Carbon Snapshots
I found this Carbon Snapshot Bank on an old unlabeled Cdr. Haven't heard these snaps before and i think they are pretty amazing. That's why i put the bank here to share them with you. Wanna point out that i didn't do them, maybe someone knows where they are from.

***

Synthesizers

Crivit Mod v2.0
By Don Dailey






JBM Crivit re-packaged
I made some very simple changes to the UI and took out the delay. Otherwise synth and my snaps are left intact. The main feature is the grease and grime applied using Jonathan Styles' AXA1 and Echospace boxes. Please use Ensemble bank for snaps.

v2 addition of J. Styles' Auto Filter and some snaps to show how that changes things.

***

erw modular m1 version 5.04 v1.2
By Herwig Krass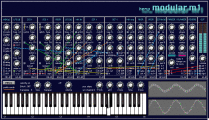 polyphone modular synth

(manual included)

***

PD 2 v1.0
By John Bleech





gated noisemaker
FPD 2 is still a simple phase-alteration noisemaker. It is just my F'PD ensemble with an added amp-gate sequencer. Turn off the gate sequencer and it is the same as F'PD, presets and all. It will load any snapshots made with F'PD.
One new feature is the Freeze button. Clicking on it will freeze all four faders at once.

Press play and then play. The clock must be started in order to get fader automation and gate sequencing, and there is an on/off switch for the sequencer that does not affect the fader automation.

FPD 2 uses a 64-step gate sequencer extracted from Dieter Zobel's GatorFX, one of my favorite effects.

Peter Dines' "The Freshmaker!" is used to modulate Audio Table waveforms.

***

JBM HooverMaker R5 v1.0
By Johan Brodd





HooverMaker revamped for Reaktor5!
Back in the cold winter of 2003 I decided to finnaly start doing something about the need for some instruments dedicated to hardcore music that I am addicted to. I planned for Raver and Kick, the work names for Hoovermaker and Aftershock. The hoovermaker saw the daylight sometimes in the summer of 2004. Now allmost 5 years have passed since my first trembling steps, and it is high time to revamp my old gears for today's computer users. They've got more power under the hood nowdays so why not?! So what is new in the R5 version? So let me say first of all that it is a version developed specially for all Reaktor users. This makes sence as a good move if you ponder how many Mac users that uses Reaktor! So this one goes out to y'all with Mac and Reaktor, so soak it up! :)

* 6 oscilators (VST version just got 4)
* 6 different filters (VST only got 3)
* Onboard chorus, phaser and reverb
* Some new patches
* Same quality as allways when JoBro Media designs audio plugins.

::Oscilators::

* 5 octave range
* Fine detune
* Sawtooth and pulsewave
* LFO controlling the pulsewidth

::Filter::

* 2p Lowpass
* 4p Lowpass
* 2p Bandpass
* 4p Bandpass
* 2p Highpass
* 4p Band limit

::Envelopes::

ADSR type for VCO, VCF and VCA.


::Effects::

The effects comes from the following ensembles slightly modified to fit HMR5.

* Chorus: Monochorus
* Phaser: Stein phaser
* Reverb: Microspace

***

JBM ORGANoid v1.1
By Johan Brodd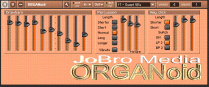 90's dance organ
Want the oldskool organs heard in the early nineties? Does Robin S bring back memories? This ensemble emulates similar sounds.

***

Pain Box v1.2
By Jesse Voccia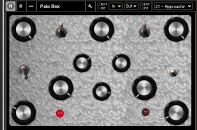 Dual Oscillator Sound Generator
This is a Reaktor realization of a notorious boutique analog synth device. This is my limited attempt to digitize the spirit and excitement of the original. I would generously say that I have captured about 30% of the vibe of the real thing. I am having a lot of fun with it anyway, so I am sharing it with the community in hopes that someone else may enjoy it as well.

I am a big believer in the phenomenon of limitations increasing creativity. I have boxes of 4-track cassettes to prove it. One of the reasons I love the original device this ensemble is based on is it's utter simplicity and the hours of enjoyment I have spent twisting it's unlabeled dials and switches. I hope the fact that I have left everything unlabeled will be accepted as creative lubricant rather than an annoyance.

In the Reaktor domain the Pain Box has many obvious new abilities such as midi automation and preset morphing. Preset morphing with this instrument in particular has been extremely amusing I hope you try it. I just like watching all the knobs turn at once. There are many interesting sounds hiding between points A and B.

If you are curious what a dial or switch does, they are properly labeled in the properties window, so just right click on it and choose, view properties.

The B view contains all the under the hood settings for the various amps and filters. The first 45 presets use settings for these parameters that I felt most closely resembled the original device.

The external Audio input is set to be a contributing color to the Oscillators. It has been purposefully muted and darkened and limited in level to be kept just under the surface of what is happening elsewhere. I think if you enjoy the vibe of the Pain Box itself, adding outside sounds will really increase the joyous mayhem. I have included Martin Brinkman's Sampleloop instrument to demonstrate the external input function. Of course using the Pain Box on as an insert on a Vocal track or a bus of guitars would be it's own brand of fun. It is also great to use in situations where you don't hear it directly such as the side chain input of a gate or compressor and as a modulation source on another synth's oscillator(s).

Thanks to Jonathan Style for his key advice to a novice builder like myself.

***