Best of Reaktor User Library january 2.011

Effects

Broken Tremolo II v1.0
By Donovan Stringer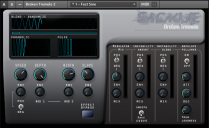 Amplitude modulation with a healthy fusion of Chaos
Originally, all I wanted was an old timey sounding Tremolo effect for my guitar noodling.

Being a Reaktor builder made this virtually impossible to not expand upon.

Conventional tremolo waveforms can be modulated by a random wave, in addition to a comprehensive envelope follower which can modulate almost every control on the effect. The signal is then routed to a dynamic limiter at the output.

This was a collab effort between, ewistrand, Deiter Zobel, Jonathan Style, and myself.

Herrn Fleischmann designed the limiter section.

Hope you guys enjoy it. This one was a lot of fun to work on with my buddies, and was also the last ensemble I completed before my three year hiatus from Reaktor.

***

Specials

Asonis v1.0
By Donovan Stringer





Hell sends its regards.
I was here, then I wasn't.

I'm here again.

I'll be uploading a small selection of my old Reaktor builds, hope some new faces enjoy them.

Big hello to all my old friends here, you know who you are.

See ensemble info for credits.

***

Maschine Package Vol. 1 v1.0
By Phil Durrant





Pitch and Timestretch Sidechain for Maschine
Three simple Ensembles.

The Caraz Sampler will change the pitch of loops - 1,2,4 or 8 bars - to fit the tempo of your DAW.

Simple Chop uses the Resynth Sampler to Timestretch

Two Knees with kick, uses a Sequenced Sampler - with a kick sample- as the Side chain Input.
This can be used as an effect in Maschine or your DAW

***

Synthesizers

KompaktBass v1.0
By Bradley Gray





Characterful Analog Bass Synth
KompaktBass is a simple bass synthesizer with a bunch of character and a fairly minimal interface.

It features one or two higher octave sawtooth oscillators (depending on the 'waveform' setting), and then a 'fundamental' oscillator which can be varied between sawtooth or pulse (again linked to the 'waveform' control). Then there is a further triangle and sinusoid suboscillator section.

There are actually two filters connected to the single set of controls on the panel,
and different waveforms go through the different filters.

The signal path is finished off with some knob I've decided to call 'HFE' (for click other high frequency attack events) followed by a drive section.
Additionally the final stage can be fed back to the FM input of some of the initial oscilltors,
for making more digital bass sounds.

***

NEO v1.0
By Stephan V.





Virtual analog synthesizer
After spending a lot of time in creating instruments that offer maximum flexibility and sound shaping possibilities I thought it would be nice to create an instrument that is as simple as possible and has very clear and strict limitations. Inspired by a simple VST-synth that came with my DAW I created this little synthesizer with only a few knobs and buttons and a very simple architecture.
I really like this little one. It's easy and intuitive to use and has a nice sound. It might not be what you expect from me, and I'm really curious about your opinion.
The ensemble comes with a short manual, because some parameters are unusual in their behavior.

***

Proton 7 v3.0
By Stephan V.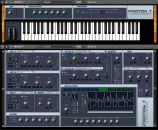 Polyphonic wavetable synthesizer
Polyphonic wavetable synthesizer with 2 main oscillators, 1 additional virtual analog oscillator,
noise generator, 2 independent multimode filters with flexible routing,
different waveshaping modes, 4 envelope generators (ADSR), 4 LFOs with three different operating modes,
2 multi-effect units + equalizer.
The heart of this instrument is its flexible modulation routing which is similar to NI's Massive.
All controls have hints, so I hope I don't have to write a manual...
Comes with 64 snaps.
There are still some bugs I'm not able to fix:
- After loading the ensemble the snapshot selectors on panel A don't work properly.
After a few hits on the buttons they work.
- The tempo of the ramp oscillators that drive the performer and stepper LFOs is not 100% correct
(Reaktor software bug????)
- Drawing performer curves: first click the right mouse button and move the mouse up and down,
then it works how it should.

1st update: implemented Marcin's suggestions in the patch and bank macros.
Now when opening the ensemble, the programnumber-display shows 08, but it works.
Rev 2.1: i've implemented Donald Phillips' MIDI voice allocator macro.
unison pan spread now works also in polyphonic voice mode with every number of unison voices between 2 and 8.
Rev 2.3: MIDI voice allocator macro updated.
2nd update: improved voice allocation and changes at voice/gate mode settings.

***